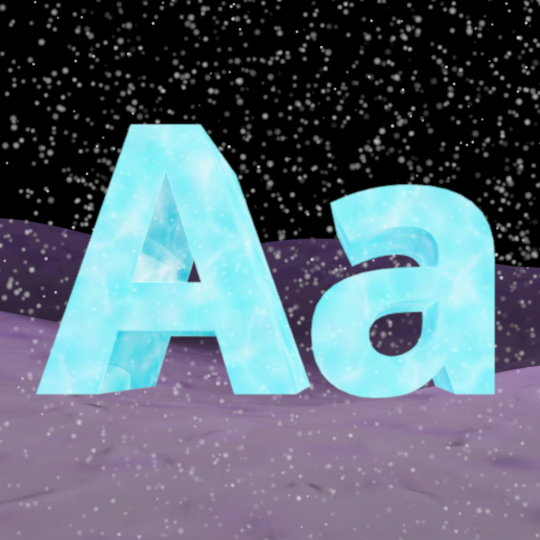 Experience the Frosty Magic of IceEditor!
Escape to a mesmerizing winter wonderland with Ice Editor: Winter Chill, the text editor that transforms your messages into a captivating display of frozen elegance and frosty text art. Immerse yourself in a world of icy blue as you type letters, numbers, and symbols adorned with enchanting frozen text effects.
HOW IT WORKS
Simply start typing your message on the keyboard and watch as the ice-blue letters crystalize in real-time on the screen. 
FUN, FROSTY FEATURES
Let your imagination run wild with fun, freezing text effects! Customize your text with various sizes to make it truly unique, make fancy frozen selections, and delight in the serene beauty of snow gently falling across a picturesque snow-covered hill backdrop.
FAMILIAR FUNCTIONS
Ice Editor offers intuitive and user-friendly functions to make your editing experience a cool breeze:
- Copy, Paste, and Cut: Effortlessly manage your text with familiar editing tools.
- Key Shortcuts: Boost your productivity with convenient keyboard shortcuts.
- New, Open, Save, Save As: Seamlessly create, access, and save your frozen masterpieces.
- Text File Support: Work with text files directly within Ice Editor for ultimate flexibility.
- Language Support: Express yourself in English or any Latin script language.
FROZEN FONT FUN FOR ALL AGES 
Embark on an educational adventure with Ice Editor! Perfect for learners of all ages, this innovative text editor and app for kids introduces a world of enchanting ice letters and text art. Learning to read and write becomes an interactive and captivating experience. Watch as letters and words spring to life in vibrant icy designs, offering endless possibilities for engaging activities such as:
- learn ABCs
- learn numbers
- typing for kids
- word games for kids
- play reading games
- and more! 
DOWNLOAD NOW
Experience the icy-cold magic of Ice Editor: Winter Chill for yourself! Download now and venture on a frozen word journey with text art messages frozen in time. 
Share IceText with friends: